Louisville, Kentucky, is known for several great things such as the Kentucky Derby, Louisville Slugger baseball bats, and for being the hometown of professional boxer Muhammad Ali, but only a couple of those things hint at the rich outdoor life that sits just outside the city. St. Matthews is just a thirteen-minute drive from downtown Louisville, giving you just enough space to get away from busy city life. Grab some water and sunscreen, pack your outdoor bag, and get ready to explore the great outdoors in St. Matthews.
Credit: The Cultural Landscape Foundation
Seneca and Cherokee Park
Seneca and Cherokee Parks are among others in the area which were originally designed by Frederick Olmstead, an American landscape architect. Olmstead had a hand in creating Central Park in New York City, the Emerald Necklace in Boston, Massachusetts, and multiple other parks in Louisville.
Seneca Park is perfect for those who like to bring their families. A large playground area is available with the equipment separated into age levels to ensure safe play. Kids who love sports will appreciate the baseball diamond, soccer fields, and open areas to play catch, frisbee, or bump around a volleyball.
Active adults are able to enjoy amenities, including a public tennis facility with ten courts, the eighteen-hole
Seneca Golf Course
, clubhouse, and golf practice range that bumps into
Bowman Field Airport
. Running, walking, and biking are easy to accomplish on one of the paved, multi-use trails. In fact, Seneca Park Loop, a 3.3-mile loop trail along the golf course, is available for all skill levels. Hiking trails such as the Wilderness Loop Trail are also available for those who prefer more of a challenge. Big Rock and the Gaulbert Pavilion along Beargrass Creek are the transition points where Seneca Park turns into Cherokee Park.
Big Rock is a large rock in the creek that is used for picnics and other activities. The open shelter pavilion was built as a memorial to George Gaulbert, part of the permanently closed Peaslee-Gaulbert Company originating in Louisville.
The 2.4-mile scenic loop through the hills, meadows, and woodlands of Cherokee Park was indefinitely closed to vehicles in May 2021, making it a peaceful outdoor getaway. A couple of sights on the loop include Hogan's Fountain, with the Greek God Pan at the center, Lover's Lane, a heavily forested portion of the loop, and Cochran Hill, where the dog park is located.
Like its neighboring park, Cherokee also has spaces for soccer and frisbee, a baseball diamond, a basketball court, and trails for walking, running, and biking. For those with a different appetite, horseshoe pits, a bridle trail, rugby field, and archery range are all available for use. Willow Pond inside the park is stocked with catchable fish up to four times a year for fishing enthusiasts. Take a boat without a motor out on the 4.3-acre pond to catch rainbow trout, sunfish, and largemouth bass.
Nettleroth Bird Sanctuary is a 13-acre preserve in Cherokee Park. No dogs or bikes are allowed here so as to not scare the birds. But there are walking paths through the sanctuary that are perfect for birdwatching and spotting more than one hundred and fifty types of birds, including the wood duck. On the trail along Beargrass Creek, you'll see wooden boxes on poles which are wood duck habitats.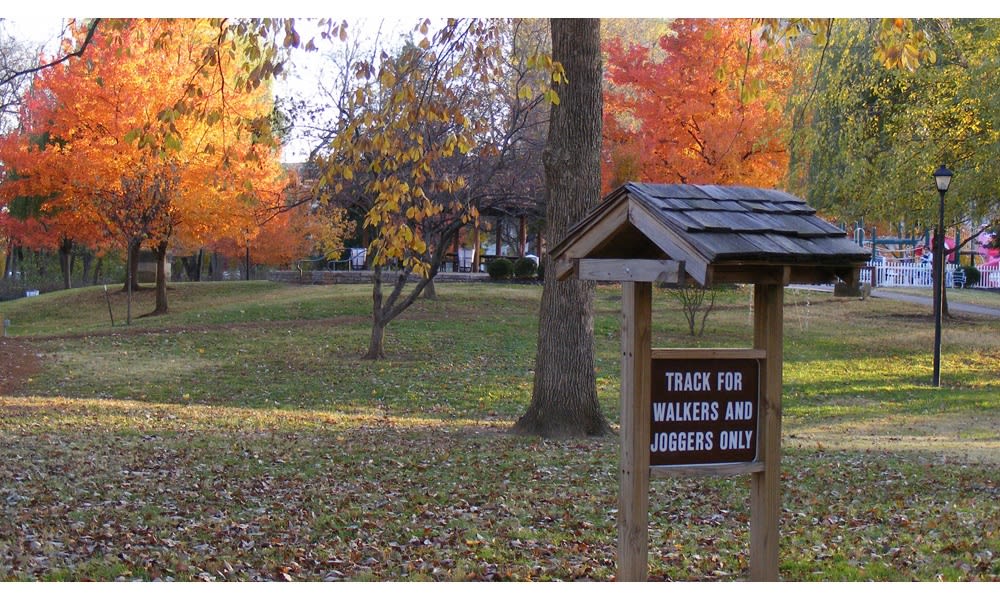 Credit: City of St. Matthews
Brown Park
This twenty-eight-acre park was placed on land donated by the James Graham Brown Foundation. James Brown and his wife were the original owners of a large portion of what is St. Matthews today. Heirs to the Brown family created the foundation and donated the land for the park. The foundation has and still continues to make significant contributions to the local community.
A designated route along one of the Brown Park walking trails leads you to the iron front gates of the Brown family cemetery. Brick walls surround the cemetery and some of the family's oldest headstones dating back to the 1800s. However, the Brown Cemetery isn't the only historical point of interest inside the park; the Bernard F Bowling Sr. Memorial sits in the west section of the park. The memorial honors city-councilman turned mayor of twenty-six years, Bernard Bowling. He was also the longtime owner of Plehn's Bakery, one of the earliest founding small businesses in the area.
Perhaps the most distinctive feature of Brown Park is the interpretative multi-layered stone columns that cut across the Beargrass Creek Valley. The columns depict the site's environmental history as smoother limestone slabs split the three major geologic periods of limestone formation in the Kentucky and Indiana region. The columns gradually rise and disappear with the change in elevation throughout the valley.
Additional park features include a playground area for kids aged 2 through 12 with musical features and the ability for children to explore forest play, barbecue grills, and open areas for a variety of outdoor activities. Take advantage of the free parking at Brown Park, and stroll over just a few blocks to Arthur K. Draut Park.
Arthur K Draut Park
Arthur K. Draut Park honors the late mayor that took over after Bernard Bowling Sr's death. He was a Navy veteran who served in the Second World War, and during his time in office, he established an occupational tax that allowed St. Matthews to employ more police officers, improve and expand the city parks, started a sidewalk replacement and construction program, and purchased the building that is currently City Hall.
The park itself is 24.4 acres of space that was originally intended for water retention during heavy rains, but the city wanted to make the area available to the public for use as well. When the park is not full of water, visitors are welcome to walk, run, and commune with nature on one of the park's stone benches.
Additionally, the entrance to this park is marked with a special art piece: a gallopalooza horse named Champion. He is a high-stepping standardbred horse in soft yellow with a map of St. Matthews depicted over his body. You'll find prominent street names, recognizable local markers, and vintage photographs from local locations here.
St. Matthews Community Park
The community park in St. Matthews is 45.8 acres and directly geared towards the sports-loving person. The St. Matthews baseball and softball leagues call the park home. Athletes play games at one of the several fenced league-quality baseball fields that are unfortunately not open for public use, but park visitors are welcome to swing their bats at the batting cages and t-ball field during the spring and summer seasons.
A children's play area with nearby picnic tables, barbecue grills, a water fountain, and restrooms are available for families who wish to picnic, play, and spend the afternoon outdoors. Basketball courts and tennis courts are available for practice and play to the public on a daily basis. In a quieter section of the park, asphalt walking paths, bench and swing seating options, and a preserved natural stream create the perfect environment for quiet outdoor meditation, yoga sessions, or relaxing strolls.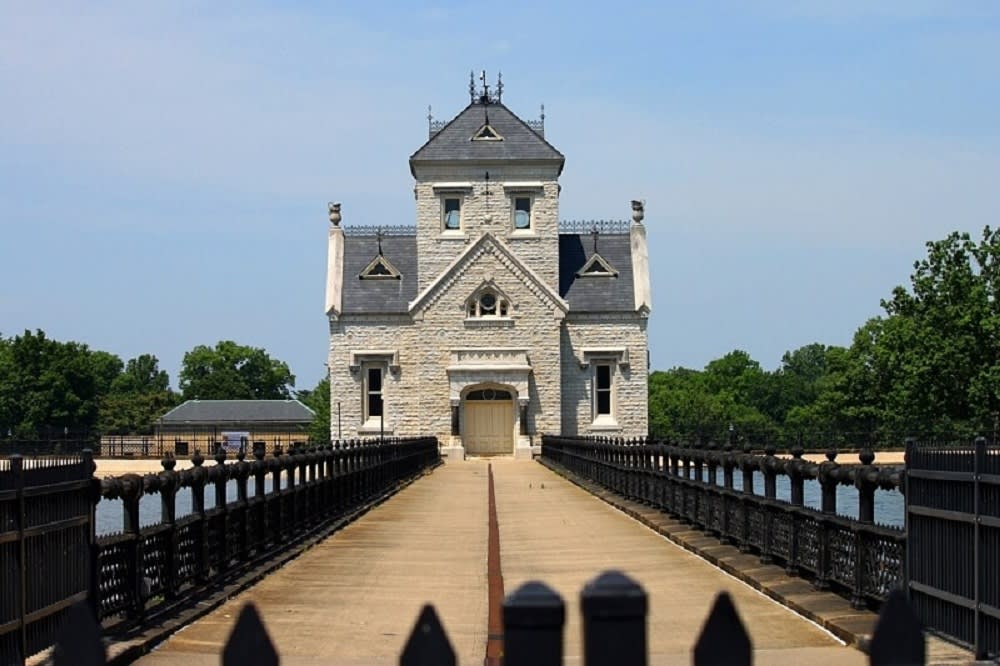 Credit: Style Blueprint
The Crescent Hill Reservoir
Though the Crescent Hill Reservoir sits just beyond St. Matthews' borders, being just a three-mile drive away and a significant location, it is still easily accessible to St. Matthews residents. The reservoir holds one hundred million gallons, and it was opened to retain mud from the water cleaning process.
Beginning in 1909, the Crescent Hill Treatment Plant opened and began to provide filtered water to Louisville. Constructed in 1879, the reservoir is a historic site on the National Register of Historic Places. Tours are available, though it has become a place where visitors are welcome to walk and run on the walking path that goes around the huge bodies of water.
It doesn't take much to fall in love with the great outdoors of Kentucky, and you're sure to return time and time again. If you're ready to call St. Matthews home,
contact Andrew Beckman and his team
to view St. Matthews, Kentucky homes for sale today.